Why You Need an Indoor Yoga Platform at Home
October 22 2022
·
October 22 2022
·
Yoga is one of the most fulfilling exercises for your physical and mental well-being. It targets every muscle in the body, relieves stress, helps manage anxiety and depression, and
can help with chronic pain
.
At-home yoga practice is an excellent way to add yoga to your everyday routine without a costly membership, an inflexible class schedule, or commuting to the studio. While you can easily practice yoga with zero equipment and no initial cost, a few things can help you get the most out of your practice.
A comfortable outfit and a safe area to stretch out are all that's needed to get started with yoga. But if you want to get serious about your asana practice, a
yoga mat
and an
indoor yoga platform
can help take you to the next level.
What is a yoga platform?  A yoga platform, like a bamboo yoga board, is essentially a wooden platform on which to roll out your mat.  The Root Board can be used anywhere you want to practice. It is sustainable, portable and beautiful!  Platforms like the Root Board are compact but durable, allowing you to practice on various indoor and outdoor surfaces. When used with a yoga mat, it provides a stable, non-slip surface to support your body and joints as you move through your yoga flow.
Do you need a yoga mat to practice yoga?  
You don't need a yoga mat to practice yoga. You may have seen photos on Instagram of yogis holding inversions on mountain tops, in the middle of Times Square, or on a surfboard. So it's possible to do yoga and have a good practice if you don't use a mat. However, there are reasons yoga mats exist.
Yoga mats provide grip for feet and hands that a carpet, tile, or hardwood floor cannot offer. They also provide additional padding to cushion your contact points with the ground, including your head, hands, wrists, elbows, and knees. A mat also provides protection from germs on the ground or floor where you're practicing and gives you a guideline for foot, hand, or body placement.
What surface is best for yoga?  
Yoga can be practiced anywhere, anytime, with little to no equipment. But that doesn't mean all surfaces provide the stability you need to get the most out of your at-home yoga practice.
Hardwood is an excellent choice in flooring for yoga practice. It's a favorite at yoga studios because of its barefoot-friendly surface,
natural resistance to dust
, and it provides a soft landing when you fall out of balancing poses.
Carpeted floors can be found in most homes and are often where most at-home yogis get started.
Yoga on carpet
can provide excellent cushion for asanas spent on your knees. However, standard foam mats can be difficult to stabilize on carpet, especially high pile carpet.
If you don't have a yoga mat, you may find your feet sliding, like in warrior poses, or you may find it more challenging to hold single-leg poses like a half-chair pose. Some transitions may even cause uncomfortable rug burn. If your favorite yoga location is in a carpeted room, but you find carpet challenging, an
indoor yoga platform
is an excellent alternative to a rug pad to help stabilize your yoga mat on carpeted floors.

Bring Your
 Yoga Studio Home. 
The great thing about yoga is it can be done anywhere. All you need is your body and a flow. But if you want to create a studio-like yoga experience in your home, try the
Root Board
. It was created with love and a passion for the yoga community. The founders believe yoga is the path to peace, health, and longevity and want to share it with the world with the help of the Root Board.
Read more
Comments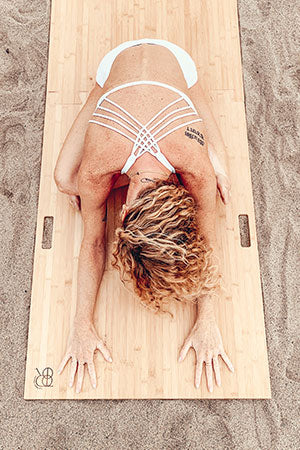 Follow us