The Root Board & Why It's Good For You & Your Practice
January 22 2021
·
January 22 2021
·
This article was written by Allison Ray Jeraci for The Root Board 
As time marches on, the feeling of stepping onto one's beloved yoga studio floor seems more foreign than the temporary lapses in our yoga practice. Lucky for us, the Root Board has come to save the day during the times of Covid. Two sleek bamboo boards join together with a jigsaw connector. When your feet connect with the board, it's a refreshing and familiar sensation, bridging you instantly to your practice as if you were right back in the studio.  
You've been crafty figuring out how to create a space that mimics your yoga studio while practicing over zoom. Still, the inconveniences of dedicating a space for your practice, practicing on uneven surfaces, and difficulty balancing and sliding on a carpet can wear you down and pull you away from your yoga. So what makes the Root Board different?  
The Root Board helps you to reclaim your yoga time. Besides being the perfect size to accommodate your mat, you can place the Root Board anywhere for a pleasant and stable practice. Bamboo is more robust than oak and, in some cases, steel and relatively lightweight compared to other durable materials. This particular bamboo is called Moso Bamboo, composed of the densest and hardest fibers compared to other bamboo species. Rest assured, the Root Board is long-lasting and easy to transport. But that's not all; this sustainable, eco-friendly, and responsibly harvested board adorns a 6-coat ultra-violet finish and easy to clean, so when you do take your practice outdoors, its exterior will remain brilliant like the day you purchased it.  
Just like any good yoga studio, you want to take care of your sanctuary. Caring for the Root Board is simple. It is an all-natural, organic material, so depending on the environment in which it lives, there might be mild bowing. In this case, simply lie the board horizontally in the opposite direction of the curvature, and the board will work itself out as it acclimates to its new home. The board can also easily be stored if you are working with limited space in your home, under a bed or couch, yet it's so beautiful you might want to keep it out year-round.  
Besides adding the element of your own home studio with the Root Board's addition, one of the best reasons to invest in the board is for the sense of stability and security you have training on it. You may have noticed that your standing balances just aren't the same working on uneven or soft surfaces. Practicing this way can be a fun challenge, but for a steady practice, you don't want to worry you might step in a hidden hole in the ground as you step back into a lunge or snag your ankle as you jump back to chaturanga dandasana. You may also love to slide in your practice, which can be difficult on carpet and even on some hardwood floors, but the Root Board makes sliding a breeze.  
If you are ready to regain your yoga practice with an essential home prop, with a luxurious feel and look that will enhance your balance and security, the Root Board is waiting for you.
Read more
Comments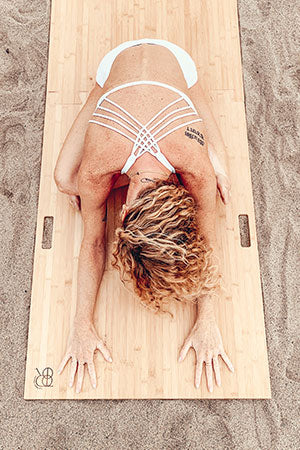 Follow us