Create a Joyful Place to Practice Yoga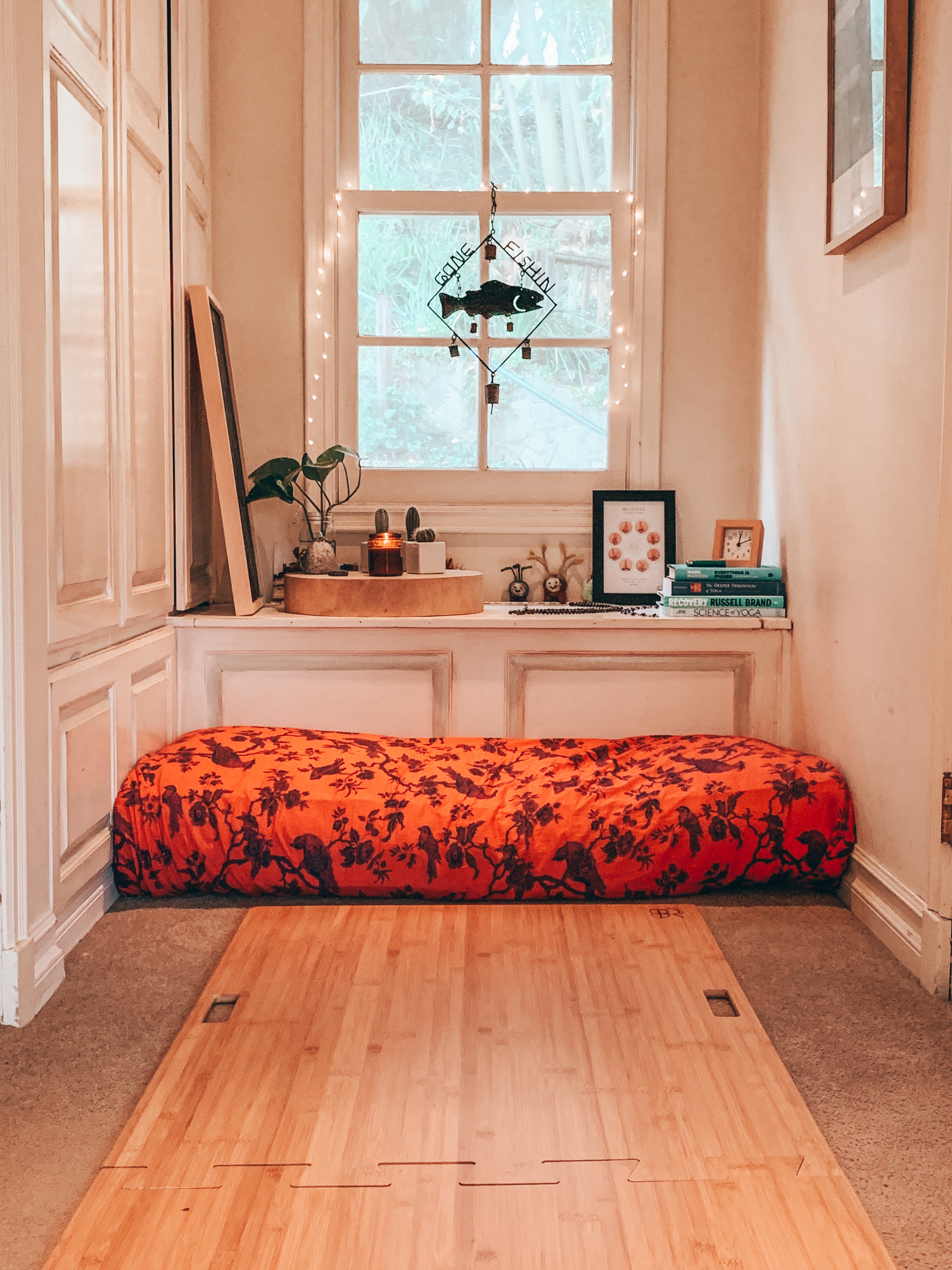 Creating an in home yoga space can be challenging for us city dwellers. I miss my yoga studio, my teachers and my community, but the reality is that social distancing is our new normal and creating a comfortable and workable space to practice has become essential. We practice yoga so we can face life's challenges with calm and kindness. It's more important now than ever to do this for ourselves. So I urge you, take the time to build and cultivate a joyful home practice. 
Joy is very personal.  Your life experiences, personality, and passion are utterly unique, so the first step is to take some time to identify and connect with your own preferences. Yoga is about turning inward—and that requires feeling comfy and supported from head to toe. Make your Home Yoga Space about YOU. It won't make a difference if your practice involves sweating buckets in a power yoga workout or quieting down in a restorative session. 
Here are five suggestions that will help you define and cultivate what makes you sing:
Dedicate a space for Wellness.
Keep it Simple
The Joy of Joyful Objects
How to Bring your Yoga Studio Home
Storage
Dedicate a space for Wellness.
You will need an area that is at least 10' x 10'.  Pick a spot by a window if you like sunlight and fresh air.  Or do you prefer a quiet zen room with low lighting and candles? 
For me, my favorite place to practice is my bedroom because of the natural light, privacy and better internet connection. Consider the flooring. If you are on carpet, you will need a hard surface on which to roll out your mat. Our yoga platform offers a perfect combination of stability (land the pose) and give (cushion the fall). The Bamboo surface creates a tangible feeling of being grounded.  Over time, the simple act of putting on your yoga clothes and rolling out your mat will be centering and calming. 
Keep it Simple
Clutter is stressful. It reminds me of all the chores I need to do, and all the "shoulds" that can be overwhelming. All that awaits, but you don't need to see or feel it when you are taking time for yourself.  So, once you've got your spot, remove everything from the area.  Deep clean and paint the walls if necessary.  
The Joy of Joyful Objects
Next, bring meaningful objects back into your space.  I'm a sentimental person, so I have objects that remind me of the people and places I love.  If you are familiar with Marie Kondo's book "The Life-Changing Magic of Tidying Up" (https://konmari.com/), you are applying the KonMari method to this area.  Essentially, you hold objects in hand and contemplate your feelings about them. Does it spark joy?  Or does it remind you of an obligation? Or are you entirely indifferent to it?  Only place joyful objects in your sacred space.
Joyful objects can also be anything that brings you peace.  Art, plants, prayer beads, candles and essential oil diffusers are wonderful elements that create a peaceful vibe.
How to Bring your Yoga Studio Home
Yoga is community, and while I love and embrace my solo home practice, I also really miss my studio and the very sweet and sweaty group Shavasana. So, add in what you love and miss from your yoga studio.  I love the music and soft lighting, so I play music and light candles and the recreating of those elements has improved my connection and focus even as our classes have moved online.  Other elements that you should consider are props that protect the work of art that is YOU, such as blocks, straps, bolsters, and mexican blankets.
Storage 
You will need a practical solution for your gear.  Baskets are a nice way to organize mats as well as shelving and wall mounts. 
I truly rely on my yoga practice to keep me grounded and calm. We all have those days when we wake up and don't want to get out of bed. For that, the simple act of putting on my yoga clothing and rolling out my mat, in my sacred spot, gives me what i need to face the day with courage, light and hope.
Here's my Home Yoga Space.  I would love to see yours!  Please share!  #therootboard